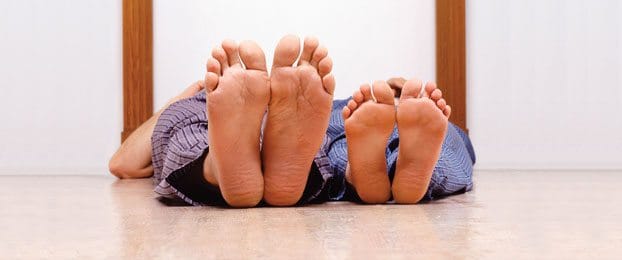 The ultra-thin mat can be used in a variety of underfloor heating installations. The 300mm wide mat is typically recommended for bathrooms and the 500mm wide mat suits larger areas. The ultra-thin mat does not require a sand and cement bed overlay and tiles can be glued directly to the mat. Ultra-thin mats have a very fast response time and will reach a set temperature in approximately 60 minutes.
CABLE TECHNOLOGY
The ultra-thin mat is a flexible double insulated twin cable system woven into a textile mat, with a multi-strand heating cable giving superior strength.
HEAT OUTPUT
The ultra-thin mat has a heat output of 150W per m² and is available in 300 and 500mm wide fabricated mats. Comfort Heat staff will help select the correct mat length for your heated area.
INSTALLATION
The ultra-thin mat is installed directly beneath the floor covering in the tile adhesive, adding no height to your floor levels. The mats are attached to the floor with either hot glue, nylon anchors or tape. The tile adhesive is laid directly on top.
SPECIAL REQUIREMENTS
Due to the thin cable technology, the Comfort Heat 'Sensor Tube' (Ref: Sensor Tube Page.) must be chased into the floor. Comfort Heat must be informed of any expansion joints in the slab. The mat must not be installed over any expansion joints. For large areas multiple mats will be installed.
TECHNICAL DATA
| | | |
| --- | --- | --- |
| Cable Type | | Twin conductor heating cable with earth screen |
| Construction | | Multi-stranded heating wire with double insulation, earth screen and sheath |
| Insulation | | 4000 V |
| Rated Voltage | | 230 Volt AC; Rated output 150W/m² |
| Cold Tail Length | | 3 metre with splice connection |
| Cable Diam. | | 3mm |
| Cable Standard | | IEC800 Class II |
| Warranty | | 10 years |

BROCHURE DOWNLOADS